Go Karts are closed for the season!
If we get some warm days in the winter call we do open them if the track is dry and above 50 degrees

(Weather permitting)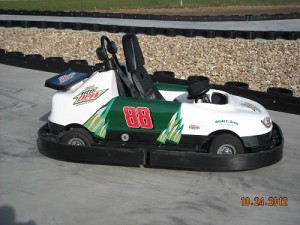 Price $6 for a 5 minute ride. $3 for a child riding with an adult.
Fun Spot Speedway is considered a Major attraction
in our birthday and Fun Saver packages.
Don't forget to use the Boost button, limited amount per ride!!!
Height Requirements for the single seater karts
Rookie -46″ and 6 years old
Junior – 52″ and 8 years old
Family – 56″ and 10 years old
     Height Requirements for the double seaters karts
  Tot (rider only)- 36″ and 4 years old driver must be 
Rookie – 46″ and 10 years old (no passenger)
Junior – 56″ and 10 years old (no passenger)
Family – 56″ and 10 years old (no passenger)
    driver must be 18 to have a passenger